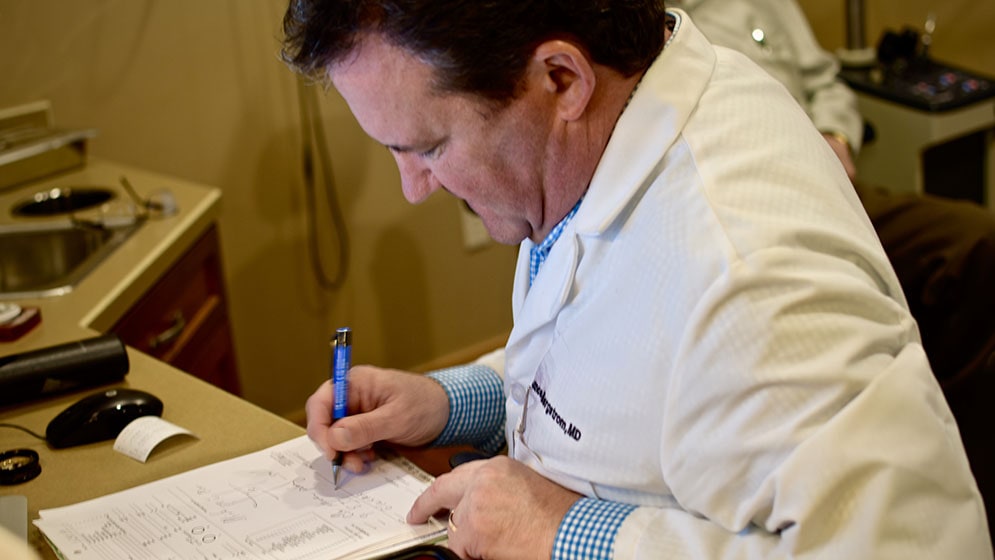 We are focused on the best procedures for you: Everyone's eyes are as unique as you are. This means offering multiple diverse options for vision correction. We give you all the options. We have done laser vision correction for over 20 years, but you know that many are not the best candidate for that. Going to a place that only does laser vision correction is like going to a carpenter who only has a hammer. Everything will look like a nail when you may actually not be a nail. We offer an assortment of not only on-the-surface eye treatments, but intraocular procedures such as the intraocular contact lens and clear lens extraction just to name a few.

Our reputation for excellence: Dr. Bergstrom, a Fargo native born and raised, has personally performed or 20,000 eye surgeries and procedures, personally performed and not just part of a group. He has done this since 1992, over 26 years. Being born and raised in Fargo, his family and friends entrust their eyes to him.

Staff: We have handpicked our staff to provide the best service for you. Combined, our staff have over 200 years of eye care experience and know what it takes to please you.

Credentials: Dr. Bergstrom and his staff have received the highest credentials in the industry, FAAO, FACS, M.D., O.D., COA, and BSN, to name a few, all requiring years of study and comprehensive testing. For example, an ophthalmologist requires a four-year undergraduate degree, mastering Medical Boards Part 1, 2, 3, one year of surgical internship followed by three years of training exclusively on medical and surgical diseases of the eye. One year following this, one becomes Board eligible, taking yet another written examination followed by oral Board testing two years later. To ensure continued excellence, the American Academy of Ophthalmology requires recertification every 10 years. One needs to be near the top of their medical school class to be selected into the highly competitive ophthalmic surgical residencies.

Northern Plains Surgery Center: Dr. Bergstrom and his partners of Fargo Eye Consultants and Bagan Strinden Vision had the vision over 20 years ago to be able to control the entire surgical experience from start to finish, utilizing the most advanced technology. From this came Northern Plains Surgery Center. Since its inception, they have performed over 50,000 intraocular surgical eye procedures, by far the most in the entire region. Our staff combined have over 300 years of surgical pre, during, and postoperative care.

We focus on safety, keeping you comfortable throughout any procedure. Our infection rate is less than 1 in 10,000.

Insurance: Many patients are surprised that we take most medical insurances. Since your eye examinations are considered a "medical eye examination," we submit this to your insurance company for your benefit.

Flex: many procedures we offer are considered elective medical procedures allowing one to use their flex benefits/pre-tax dollars to pay for them. Our friendly staff can answer your questions.

We are a locally-owned eye clinic, not controlled by any one organization, such as the bi clinics in town, nor are we owned outside the region such as some of the laser clinics that are nothing more than chains of a larger corporation. Because of this, we can individualize your treatment the way it should be.
BOOK AN APPOINTMENT
At Bergstrom Eye and Laser Clinic, our goal is to provide the highest quality of care in a compassionate and ethical manner. We believe that vision is one of our most precious gifts.